Modern Wine Cellar Racks for Floating Wine Displays
Blue Grouse Wine Cellars, one of our dealers in wine room construction, did a great job in their recent wine cellar project. They utilized their Float Wine Display & Racking System to create a modern wine display area in their client's home. Learn more about the features of this wine cellar. 
Modern Wine Cellar Built with an Impressive Wine Rack Design 
More people appreciate having a wine cellar in their homes for many reasons. These include easy access to their favorite wines, create an attractive display of their collections, organize wine conveniently, and provide a relaxing entertainment place for their guests.  
Blue Grouse Wine Cellars, one of our partners in wine cellar construction, provides innovative wine storage solutions for clients who want a luxurious-looking wine cellar without having to break the bank. Yes, working with an experienced, knowledgeable, and creative builder will make this possible. Like Blue Grouse Wine cellars, Custom Wine Cellars Denver also helps builds wine rooms with unique and functional features. 
In one of their projects, the Blue Grouse team was contacted by the homeowners of a beautiful home who wanted to create a modern wine cellar for their small collection. They had to build a wine display area in the client's large dining room, just behind the dining table. 
The Cost-Savvy Construction Process
Refrigerated wine cellars must be built by a master builder because there are technical requirements, especially in insulating the wine room. Wine cellar insulation can be costly if the room was already built and walls need to be demolished.  
This wine cellar project was part of the construction of the owner's home, allowing the owner to save on the cost. The general contractor added insulation to the walls along with the construction of the client's home. To ensure that everything was built correctly and the room was ready for refrigeration, the Lue Grouse team consulted with the building company.   
Keep in mind that insulating the room displays a crucial role in regulating the temperature and humidity level inside the wine cellar. A lack of or poor insulation can cause wine storage problems and a waste of investment. 
Unstable conditions in your wine cellar can delay or accelerate the aging process of your wines, giving them unpleasant flavors and aromas. With proper insulation, we can prevent mold and mildew build-up in the walls and ceiling, on the wine racks, wine labels, and cork.  
Modern Floating Wine Cellar Racks by Blue Grouse Wine Cellars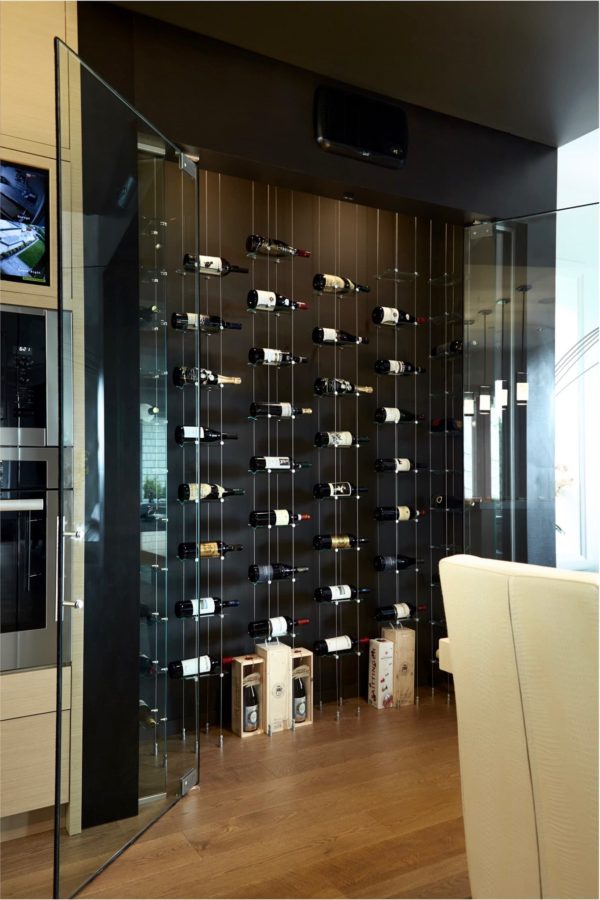 Blue Grouse Wine Cellars is the sole dealer and owner of the Float Wine Display & Racking System. They developed this high-tension cable method using the components supplied by a manufacturer in Vancouver. This product stands out from other cable wine racks on the market because it uses distinct glass cradles to hold the bottles.  
Design and installation flexibility make this wine storage system a top choice in building modern wine cellars. You have the option to install neck forward or label forward wine racks, depending on your personal preference. You may also choose to set up the rows in diagonal formations to create a visually appealing wine display area in your home.     
In this particular project, Blue Grouse Wine Cellars installed the racking on the wall behind the dining table. The label forward cable wine racks can be found at the center of the wall, while the neck forward wine racks were placed on both ends. This racking style creates an illusion of bottles floating in the air.  
To develop an organized and attractive design, the team made sure that the bottles were spaced liberally for displaying a small number of bottles from the client's collection. If the owners want to increase the capacity of the racking system in the future, it is easy to add more cradles for more bottles. There will be no problem with the stability of the high-tension cables.  
Before Blue Grouse Wine Cellars installed the cable wine racks, they had to drill in at least ¾ inch to secure backing in the floor and ceiling. They had to do this because these modern wine cellar racks cannot be installed into a drywall ceiling.    
Wine Cellar Refrigeration System: The Economical Cooling Solution for this Modern Wine Cellar 
In this project, Blue Grouse Wine Cellars had to stay within the client's budget. They had to look for a low-cost wine cooling solution without compromising efficiency.  
One of the reasons they utilized the wine refrigeration system from KoolR Magnum is because it is less expensive than the other types of cooling units, which can be about ten times costlier. In addition to its low cost, this popular cooling unit offers the following features and benefits: 
Simple installation – There is no need to hire an HVAC technician to install flithis KoolR wine cooling system. A regular contractor can simply mount it. 

 

High-quality components

 

Superior efficiency 

 

Features 

 
The chosen wine cooling system is a simple self-contained unit, which means the two components (evaporator and condenser) are contained in a single unit.  
It was installed though a header, allowing the air to be vented to and from the dining area. The vent can be seen just above the glass doors. This type of refrigeration system is recommended for small wine cellars like this. For larger wine rooms with a large amount of glass, a more powerful climate control unit is required.  
Always remember that it is not recommended to change the grill cover of the unit because it will affect the airflow. If you want a custom look, you may paint it. In this project, Blue Grouse Wine Cellars painted the grill black to complement the dark wall in the wine cellar. A condensate tube was used to lead the water coming from equipment to an empty wine bottle at the top of the racking.  
Glass Doors that Complement the Modern Wine Cellar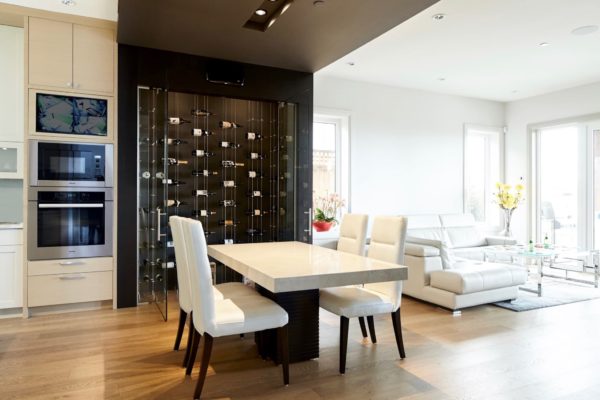 Seamless glass doors look perfect in this modern wine cellar. We manufactured them at a competitive price. These doors are widely used in creating contemporary wine displays.  
 The glazier formed the glass to exact measurements to allow the smallest gaps around the doors. He used weather stripping to fill in the tiniest gaps. This sealing component will prevent air leakage. It is best to work with a glazier who has in-depth knowledge on the role of the correct sealing of doors in proper wine storage.   
Let Our Experts Build a Modern Wine Cellar for Your Home 
Like Blue Grouse Wine Cellars, Custom Wine Cellars Denver offers innovative wine storage solutions to those who want to build a modern wine cellar in their homes without breaking the bank.   
If you need help or have any questions about wine cellar design and construction, please call us at (303) 872-7858.