Exceptional Wine Cellar Design: Why Work with Experts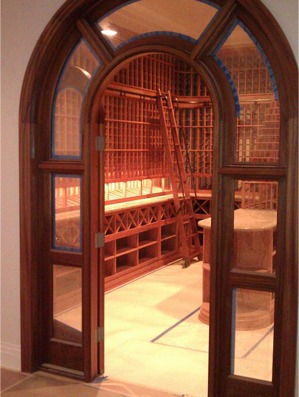 If you are looking for an expert designer of residential and commercial wine cellars, you are in the right place! Custom Wine Cellars Denver provides innovative wine storage solutions to avid wine collectors and entrepreneurs who want a beautiful and safe display of their wines. We work with top-notch builders, including Coastal Custom Wine Cellars. We have proven our expertise and creativity in designing elegant and functional wine rooms.   
How 
Experts Create
 Stylish Designs for Residential and Commercial Applications 
Creating a custom wine cellar design requires technical knowledge, experience, and creativity. It is not an easy task and must be done by a professional. At Custom Wine Cellars Denver and Coastal Custom Wine Cellars, we have been helping homeowners and entrepreneurs build a wine storage that will display their wines attractively and safely.  
We have created a good reputation in wine cellar construction. We create impressive designs based on the aesthetic, functional, and financial requirements of our clients.  
Positive Impact of Working with a Professional Custom Wine Cellar Designer
An eye-catching residential custom wine cellar will add aesthetic and resale value to your home. If you plan to sell your home in the future, a wine cellar is one of the features that can make your property more attractive to homebuyers. It also provides an excellent place for entertaining friends or hosting wine tasting parties and creates a focal point in your house, especially when a professional designed your wine room.  
A commercial custom wine cellar designed with form and function in mind can help boost your wine sales. At Custom Wine Cellars Denver and Coastal Custom Wine Cellars, we want our clients to have an enticing wine display of the wines they sell. We will create a design that will not only attract potential customers but also organize and manage your wines conveniently. 
Custom Wine Cellar Design Process
When you choose to work with us, we will offer a 3-dimensional design package that includes CAD images showing the different elevations of your completed wine cellar, racking styles, bottle capacities, dimensions, placement of the wine cooling unit, and door style. Our package also includes a video tour and an explanation of the details of your wine cellar design. We will make an on-site visit and conduct an interview to get the information necessary to get the project started.   
You may also opt to create a sketch of your wine cellar design and make specific measurements. Please visit Coastal's Wine Cellar Design page to find instructions on how to do this. You may also request us to do the job for you.       
Custom Wine Rack System
The wine racks play a significant role in achieving the aesthetic appeal in your home or commercial wine cellar. Customizing your racking system offers many benefits, which include the opportunity to incorporate the features that you desire for your wine display area. The wine racks will be created according to the size and shape of your wine room.  
Custom Wine Cellar Doors
Another critical component in wine cellar design is the wine cellar door. In addition to sealing the wine room to create the ideal conditions, wine cellar doors also increase the visual appeal of wine rooms.            
We offer stylish pre-hung and custom wine cellar doors. We recommend customizing your entryway so you can choose the design and material for your door. You may want it carved, painted, or etched.  
Exceptional Custom Wine Cellar 
Designs Created by Coastal Custom Wine Cellars  
Coastal Custom Wine Cellars has been our partner in wine cellar construction. They have created exceptional designs for homes and commercial establishments. See examples of their impressive projects below:  
Custom Wine Cellar Project 
Designed for a Client in
 Irvine, California 
The Coastal team brought a unique concept to life in one of our projects in California. The client wanted to have a section in the racking for his Bourbon collection. To meet his needs, they created a storage and display area for these bottles on the upper section of the right wall, surrounded by individual wine racks. They also added wooden case storage bins at the bottom section. 
Other features of the custom wine cellar design are diamond bins, high-reveal display rows, arched display, tabletop, and drawers. Coastal Custom Wine Cellars used Redwood for the racking. This type of wood is naturally beautiful, but the client requested to apply a finish to the wine racks to enhance its color.      
Wine Cellar Design Under the Stairs of a California Home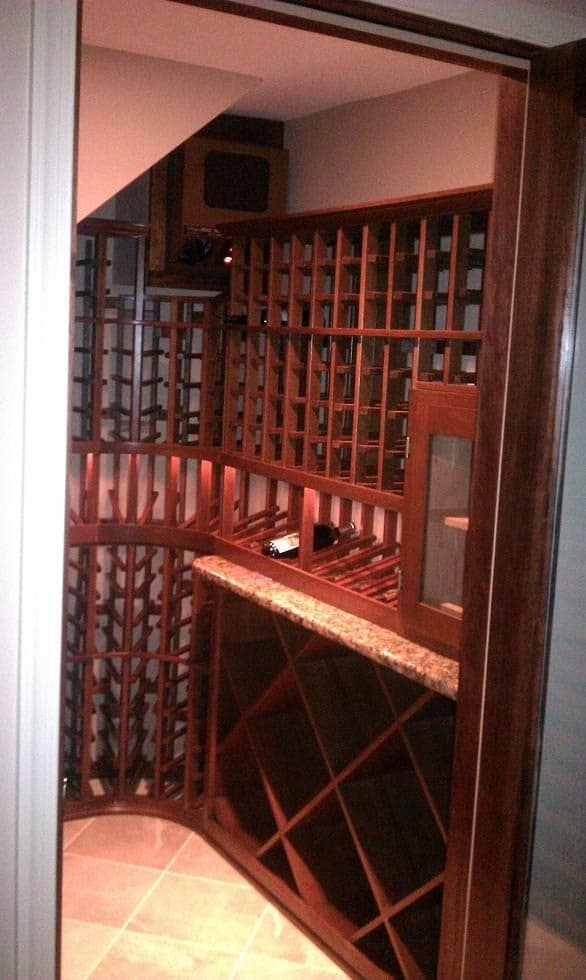 In Santa Monica, California, the homeowners contacted the Coastal team because they needed help transforming the space under their stairs into a beautiful wine room. In this wine cellar design, sloping wine racks were installed to fit perfectly in the sloping ceiling.   
We included horizontal display, single bottle storage, high reveal display rows, and diamond bins. We used Malaysian Mahogany, a wood species known for its attractive wood grains.    
Contemporary Commercial Wine Cellar Design in Malibu, California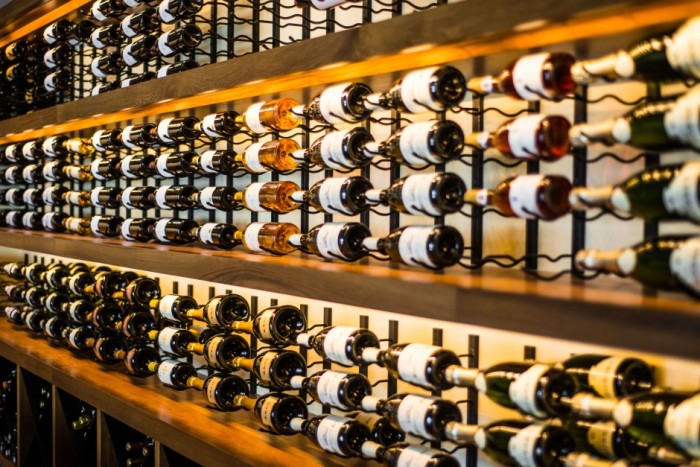 A restaurant owner in Malibu, California, sought our help in building a commercial wine cellar that would help boost wine sales. We utilized metal wine racks from VintageView to complement the Zen-inspired interior design of the restaurant. The wine racks are confined within the existing wooden shelving.    
The racking features a label-forward bottle orientation, which allows for convenience in reading the wine labels. Below the contemporary wine racks are X-cube bins, which are intended for storing wines in bulk.  
Seek the Help 
Wine C
ellar Design 
Experts 
and Experience the Benefits
A stylish custom wine cellar offers many benefits. You can build an exceptional wine display area for your collection with the help of our wine cellar design experts. Custom Wine Cellars Denver and Coastal Custom Wine Cellars will help increase the aesthetic value of your home or boost the wine sales of your wine business.    
If you want to get started, please fill out our wine cellar design form and get a free design package. You may also call us at (303) 872-7858.