This Budget-Friendly Small Basement Home Wine Cellar has Stylish Features that Impress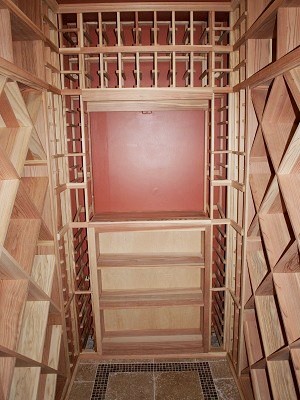 Coastal Custom Wine Cellars completed another stellar construction project. They transformed a small basement into a beautiful home wine cellar while keeping the cost down. Like the Coastal team, Custom Wine Cellars Denver has also completed many design and construction projects for wine lovers who want to create a safe and stylish wine storage room in their homes.    
Budget-Friendly
 Basement Home Wine Cellar
with Stylish Features
Coastal Custom Wine Cellars is a premier builder of residential wine rooms. They have been in the construction industry for many years now. They are one of our partners in building wine storage facilities.  
As a master builder like Custom Wine Cellars Denver, the Coastal team aims to meet the aesthetic, functional, and financial requirements of every client we work with. We do not compromise quality over price because we want to prevent a waste of time and money. Hire a builder with extensive experience, knowledge, expertise, and creativity in creating refrigerated home wine cellars with elegant features.   
In one of their projects, Coastal Custom Wine Cellars had to transform a small basement into a wine room while keeping the cost down. They scheduled an on-site visit so they could assess the location and the specific needs of the client. After this, they created a layout plan, ensuring that everything was designed according to the owner's requirements and exceeded the client's expectations.   
Wine Rack Design
: Combining Style and Function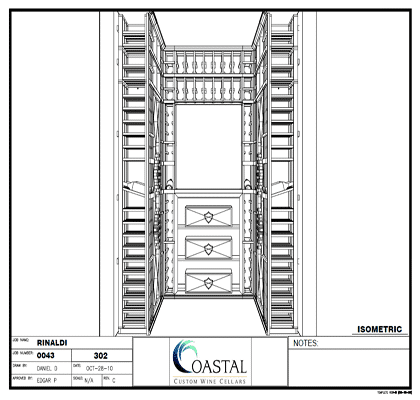 When creating the design for wine racks, it is crucial to consider the size and shape of the room, in addition to the features that the owner wants to incorporate into the design. In this particular basement wine cellar project completed by Coastal Custom Wine Cellars, they had to deal with the limited space located in the basement of the home.  
The Coastal team created 3-dimensional drawings that would help them visualize the completed residential wine cellar. They customized the design to create a wine rack system that would cater to the needs of the client.      
Back Wall
The wine racks on the back wall are the focal point of this home wine cellar. There is a rectangular opening with a tabletop, which is an excellent feature in a wine room. It adds additional bottle storage and space for decanting, serving, and tasting wine.  
Coastal Custom Wine Cellars also added individual wine racks around the opening and three levels of wooden case storage bins.  
Left and Right Walls
On the left and right walls, they installed mirrored racking consisting of rectangular bins at the top, three-column bins on both sides, and diamond bins at the center. There are also display rows that highlight the bottles and pitch them at an angle.      
Wine Rack Material
Choosing the right material for the wine racks is vital in achieving the desired look and ambiance in a wine cellar. Custom Wine Cellars Denver and Coastal Custom Wine Cellars always see to it that the perfect choice of material is used for the wine racks. We utilize high-quality and attractive wood species for traditional wine cellars.     
In this project, the Coastal team used Premium Redwood, which is a perfect choice for wine collectors who are looking for an economical and high-quality wine storage solution. 
This type of wood exhibits light pinkish tones and attractive streaks and swirls. It is also known for its natural preservatives, which make the wood durable even when left unfinished.    
Other properties that make Premium Redwood one of the most sought-after materials in wine cellar construction include its high resistance to high humid conditions in refrigerated home wine cellars, decay, insects, and mildew.            
Reliable Wine Cellar Cooling System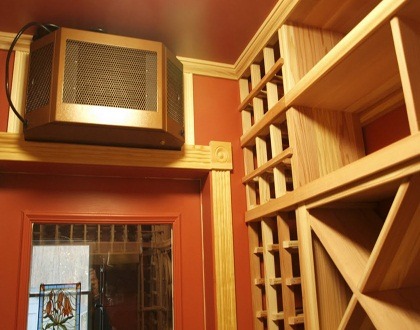 A stable environment is necessary for wines to age gracefully. It will help your wines to preserve their desirable characteristics before they are ready for consumption. With many wine cellar cooling units available in the market, it is easy to fall into the trap of choosing wine racks at a low price.  
Always keep in mind that when you work with a master builder, they will offer you economical wine cellar cooling solutions that are within your budget. Moreover, they will also ensure that your climate-control system is installed correctly to prevent one or more wine storage problems in the future: 
High humidity levels that cause condensation and m

old growth

 

 

High temperatures cause

wine oxidation, wine spoilage, damaged cork

and 

ruin

ed

 wine labels

 

The 

structural integrity of the walls, ceiling, and wine racks 

will be affected

 
Critical Decision Making the Team Did for the Cooling System of the Basement Wine Cellar for the Client's Home
Coastal Custom Wine Cellars performed a heat load calculation, one of the essential steps in building refrigerated wine cellars. In this step, the BTUs are determined needed for the wine room.  
Considering the factors such as the amount of glass utilized, size and location of the room, and insulation value, the suitable cooling unit for the project was the Slimline 2500 supplied by WhisperKOOL. This unit was the smart choice for this low-cost basement wine cellar project. They placed it just above the door, eliminating the use of floor and racking space. 
The Slimline Series refrigeration systems are compact in size, self-contained, and ductless. The evaporator and the condensing unit are placed in a single housing, and no ducting is required, allowing for ease of installation. 
This unit also offers a quiet operation, superior performance up to 350 cubic feet, unobstructed airflow, and less energy consumption. Other features that make WhisperKOOL's Slimline Series wine cooling units popular are: 
2-speed fan switch 

 

Customized front panel

 

Condensate evaporator

 

The stainless steel drip tray

 

Digital thermostat with bottle probe

 

Removable grilles for easy maintenance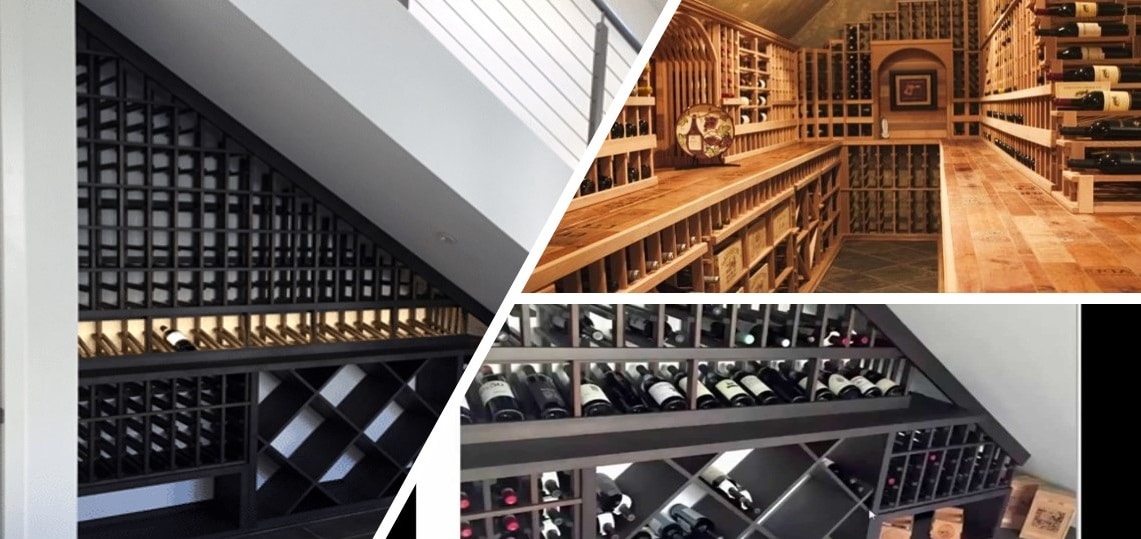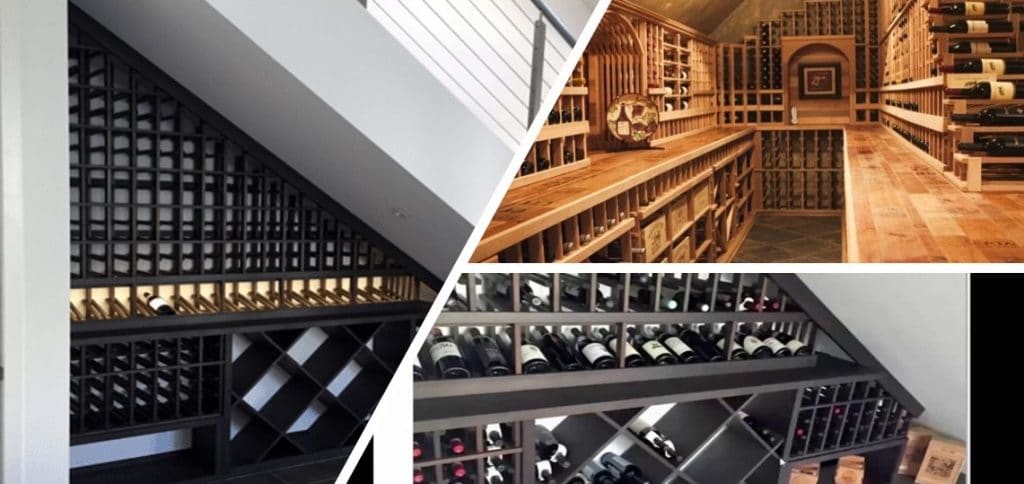 Convert a 
Basement 
or Any 
Room into an Elegant Custom Home Wine Cellar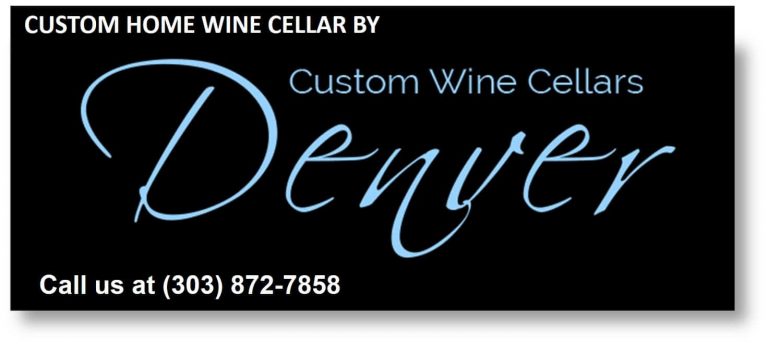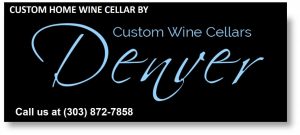 Another small space was transformed by Coastal Custom Wine Cellars using stylish features and high-quality components. Are you planning to utilize your basement or any unused space for your wine room project? Please call us at (303) 872-7858!