Wine Cellar Doors: Styles and Construction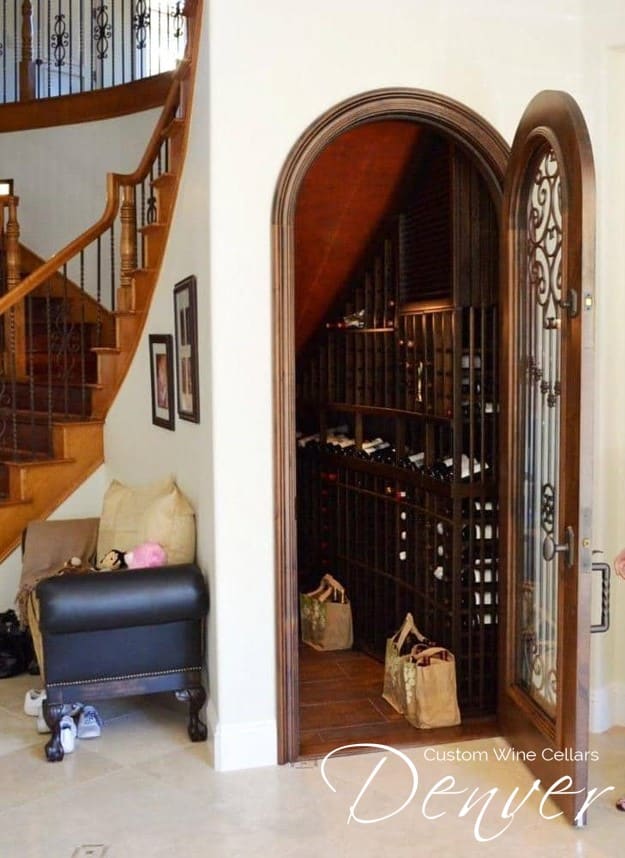 Impress your guests and keep your wine collection safe by choosing an elegant wine cellar door installed by an expert. Custom Wine Cellars Denver designs and installs doors that are eye-catching and secure. Our team of experts has been manufacturing high-quality wine cellar doors for many years. You can work with us in creating a grand entrance to where your prized wines rest!  
Wine Cellar Doors: How We 
Construct
 and Design Them 
Wine cellar doors play a significant role in creating optimum wine storage conditions inside wine storage facilities. Therefore, you must work with a builder with extensive experience and knowledge in designing and installing wine cellar doors.  
At Custom Wine Cellars Denver, we always want every door to reflect the client's personality and help maintain a stable environment inside the wine cellar. We offer attractive wine cellar doors and install them correctly so that they will function as they have to.   
Proper Construction of Wine Cellar Doors: How Our Experts Do it
Installing an ordinary door in your refrigerated wine cellar will result in wine storage problems and a waste of investment. Our wood and glass wine cellar doors are constructed with proper care to help keep a stable environment inside your wine room. 
At Custom Wine Cellars Denver, our wooden doors are made from exterior grade materials so they can withstand the extremely humid conditions in refrigerated wine cellars. We construct them with 3 ¾" thickness and use the LVL (Laminated Veneer Lumber) technique for increased stability, durability, and insulation properties. This innovative technology utilizes thin layers of wood that are connected with adhesives.    
We also use the traditional method for wine cellar door construction, which is called the Mortise & Tenon technique. In this ole-world technique used by skilled artisans, we join and interlock two pieces of wood to make the edges of our wine cellar doors stronger, especially when installed in refrigerated wine cellars.  
In building wine rooms, the insulation of walls and ceiling is vital to ensuring that the optimum wine storage conditions are met – the same thing with glass wine cellar doors. We use thermally insulated glass panels to help regulate the humidity inside the wine room. It will prevent condensation from happening and mold from growing. Mold growth can damage the structural integrity of our wine cellar, your wine's quality, wine labels, and cork. 
Adding Sealing Components to Our Wine Cellar Doors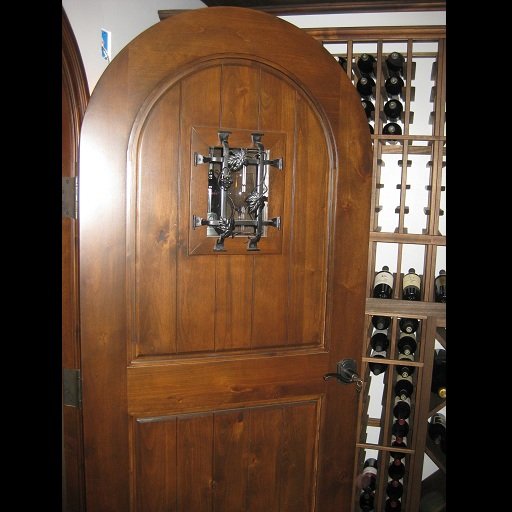 At Custom Wine Cellars Denver, we equip each door with sealing components to prevent air leakage. Doing so will prevent heat from leaking into the wine cellar and the cold air from escaping. Another importance of creating an airtight seal in your wine room is to prevent the wine refrigeration system from working too hard to achieve the ideal temperature and humidity level. We install weather stripping to seal the gap around the door's edges.  
An automatic door bottom also aids in sealing in cold air inside the wine cellar. This mechanical device automatically pops up when you open it and drops down before the door is shut. It also prevents door dragging, which can damage your flooring. 
Styles of Wine Cellar Doors We Offer 
We offer various styles of wine cellar doors. We have stylish pre-hung doors, which are available in arched and rectangular tops. We have doors made from solid wood, wood with glass, wood with glass and wrought iron, and wood with wrought iron.  
Solid Wood Wine Cellar Doors
If you want a traditional entryway, a solid wooden door is right for you. Our wooden wine cellar doors are made from the following high–quality wood species: 
African Mahogany

 

Premium Mahogany

 

Malaysian Mahogany

 

Clear Alder

 

Knotty Alder

 

Redwood

 

Walnut

 

Cherry

 
Depending on your needs or personal style, you may opt for a plain or hand-carved wooden wine cellar door. We have available designs for carved doors. You may also choose to customize the carvings on your door. The most popular designs are wine-related themes such as grapevines and wine glasses. 
Glass Wine Cellar Doors
Our glass wine cellar doors can go well with any existing décor, but we highly recommend them for building contemporary wine rooms. You may opt for a seamless glass door or one with a wooden frame. We offer stained and etched glass if you want to add a unique feature to your wine cellar door.  If you want to create an aquarium-like wine display, we recommend an all-glass enclosure for your wine cellar located in the middle of a room.
Wrought Iron Door with Wood 
Wrought iron doors are ideal for clients who want a vintage-looking entryway. Our pre-hung wrought iron doors have intricate iron details. If you want to incorporate your own design, please let us know. We want every door to reflect our client's personality.   
Wine Cellar Doors with Wood, Glass, and Wrought Iron
The luxurious appeal of doors with wood, glass, and wrought iron elements makes them a favorite choice in residential and commercial applications. Here are some door styles made with these three materials: 
Sonoma door 

 

Coto door 

 

Tuscan door 

 

Catalina door

 
Want to Have a Unique Entrance to Your Wine Room? Work with Expert Manufacturers of Wine Cellar Doors.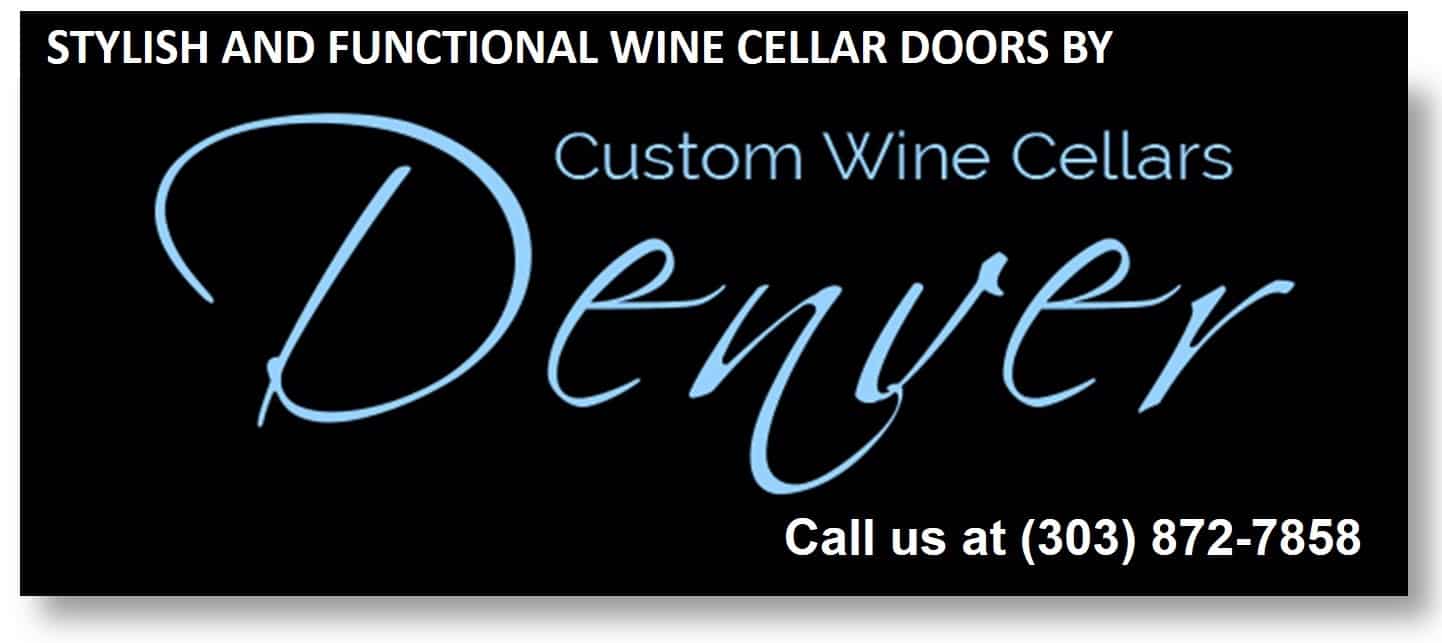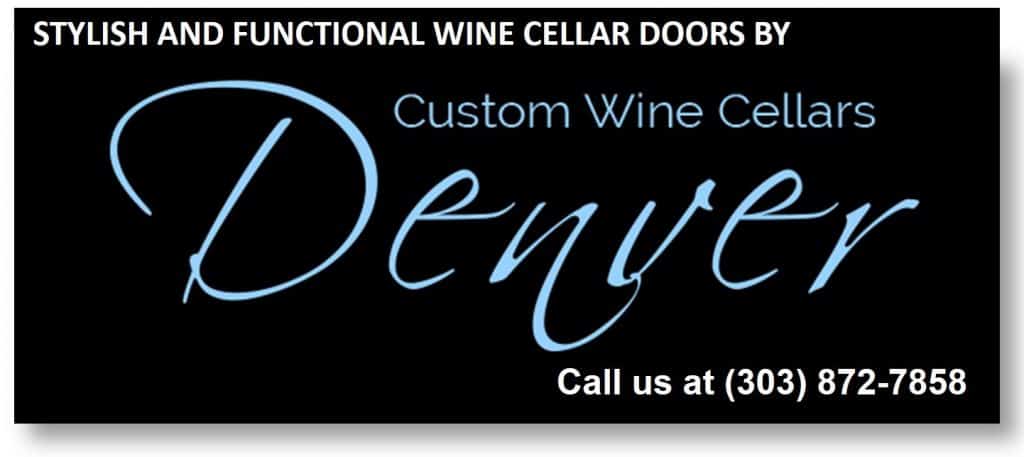 To ensure that the entryway to your wine storage facility is designed with elegance, made of exterior grade material, and installed with essential components, you must work with experts in wine cellar doors. At Custom Wine Cellars Denver, we have been in the construction industry for many years. We have been helping homeowners and entrepreneurs have a stylish and safe door for their wine room.  
If you want to talk to one of our specialists, you may call us at (303) 872-7858!