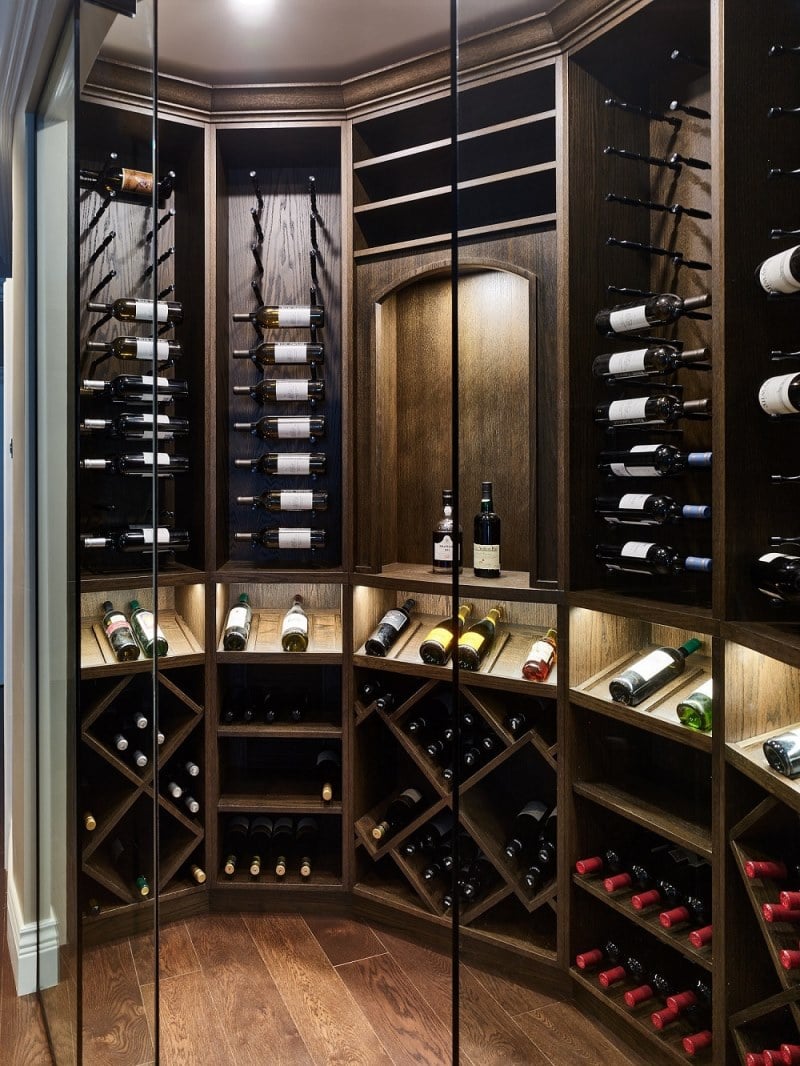 Wine cellar lighting is a crucial element in designing and building refrigerated wine rooms. It not only beautifies your wine storage space; it also plays a significant role in achieving the mood and look of your wine display area. Custom wine Cellars Denver explains why wine cellar lighting must be installed by an expert and the different lighting system options.
The Role and Benefits of Proper Wine Cellar Lighting 
Understanding the role of proper wine cellar lighting is essential to keeping your wine collection safe and achieving the overall ambiance you desire for your wine room. At Custom Wine Cellars Denver, we always make sure that your lighting system is installed correctly and designed to offer functional and aesthetic benefits. 
Proper Wine Cellar Lighting Help Create a Safe Wine Storage Environment 
 
Wine needs to be kept in a room where the temperature and humidity are at an ideal range. The optimum temperature needed by wine to age gracefully is between 55 and 65 degrees Fahrenheit. The humidity levels must stay within 60 to 70 percent. To achieve the perfect wine storage conditions, we will install an efficient wine cellar cooling unit that suits the size, location, and glass elements in your wine storage facility.  
Another significant component of a refrigerated wine cellar is the lighting system. It must not be taken for granted because it also plays a significant role in preserving the quality of your wines.  
Keep in mind that wine is very sensitive to heat. Too much heat exposure can damage the overall quality of your wines. High-temperatures can alter the chemical composition of the wine, which can result in off-flavors and smell.  
Installing the proper wine cellar lighting will keep the temperatures in your wine cellar stable. It will prevent temperature fluctuations and save your prized wine collection from damage.  
At Custom Wine Cellars Denver, we utilize LED lights because they emit a minimal amount of heat and UV light. They are safe to use and recommended by master builders.   
The Right Choice of Wine Cellar Lighting Will Minimize Energy Consumption
 and Save You Money
Another reason why our LED lighting systems are in-demand in wine cellar construction is because they are energy-efficient. They consume less energy compared to regular or incandescent bulbs, preventing your energy bills from surging.  
Moreover, LED lights have a longer lifespan. They can last up to about 100,000 hours. We recommend installing a dimmer switch so you can adjust the brightness of your light and a timer to avoid continuous usage of the light. These mechanical devices will lengthen the lifespan of your LED lights.     
Proper Wine Cellar Lighting 
Fixtures Can Add a Dramatic Effect to Your Wine Cellar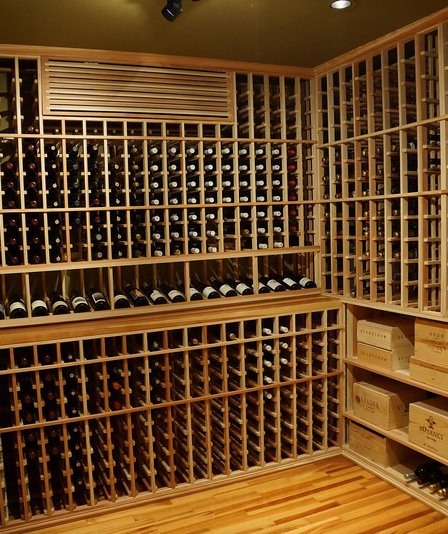 Whether you have a residential or commercial wine cellar, it is vital to seek the help of an expert to ensure that your wine cellar lighting system suits your aesthetic requirements. Lighting has a significant impact on the overall mood and ambiance inside your wine room. Therefore, it is best to understand the different types of wine cellar lighting systems and consult a specialist like Custom Wine Cellars Denver. 
Recessed Can Lights    
Recessed can lights are also known as downlights because they are mounted on the ceiling to highlight specific areas in your racking downwards. You can use recessed can lighting as the main light in your wine cellar, but they are more attractive when highlighting some of your bottles in the racking.  

Track Wine Cellar Lighting 
Track lighting or spotlighting is a convenient and beautiful lighting option for wine cellars. If you are looking for a lighting system that is easy to install and versatile, this is the perfect choice for you.  
Track lighting is an accent lighting system that is usually installed on the ceiling and can also be installed on a wall. It consists of track heads that can be moved towards the direction that you want to highlight.  
Rope Wine Cellar Lighting  
Display rows are intended for highlighting some of your bottles pitched at an angle. Adding a rope lighting system will not only make reading the wine labels convenient, but it will also create a wine display illuminated in a stylish and minimal way. It consists of a long cylindrical tube of lights. 
Ribbon or LED Strip Lighting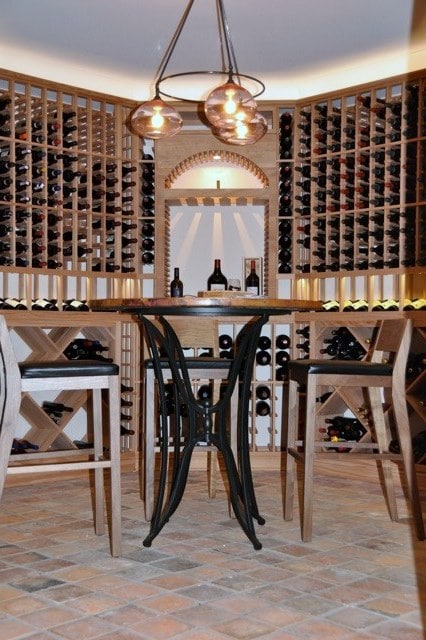 A flexible circuit board with LED lights makes up the LED ribbon or strip lighting. You may request to customize it to suit your needs. It can be controlled using wireless dimming systems and wall switches. LED strip lighting is also an ideal option for display rows.  

Wall Sconces  
Another attractive way to illuminate your wine cellar is by installing wall sconces on both sides of the wall. Wall sconces can create a perfect glow in your wine room and hold electric candles, electric bulbs, or candles.  
Depending on how you want the light to spread out in your wine room, you may choose a full-cover opaque lens for a moon-glow effect or half-moon shaped bulbs for an upward light. These lights are installed at least 6 feet above the floor. If you want to make your wine cellar look bigger, wall sconces are ideally placed about 10 feet apart.    

Chandeliers  
Do you want to add a more traditional feel to your wine cellar? Chandeliers will do it! Chandeliers add elegance to any space. They are usually medium to large size with two or more light-bearing arms. Let us know your requirements so we can find the best chandelier for your wine cellar.  
Work with Our Wine Cellar Lighting Experts
Illuminating your wine cellar requires the help of an expert. Your lighting system must not emit too much heat while providing an ample amount of light inside your wine cellar. It should also be designed to create an attractive wine display area. 
Do you have questions?  Please call us at (303) 872-7858!