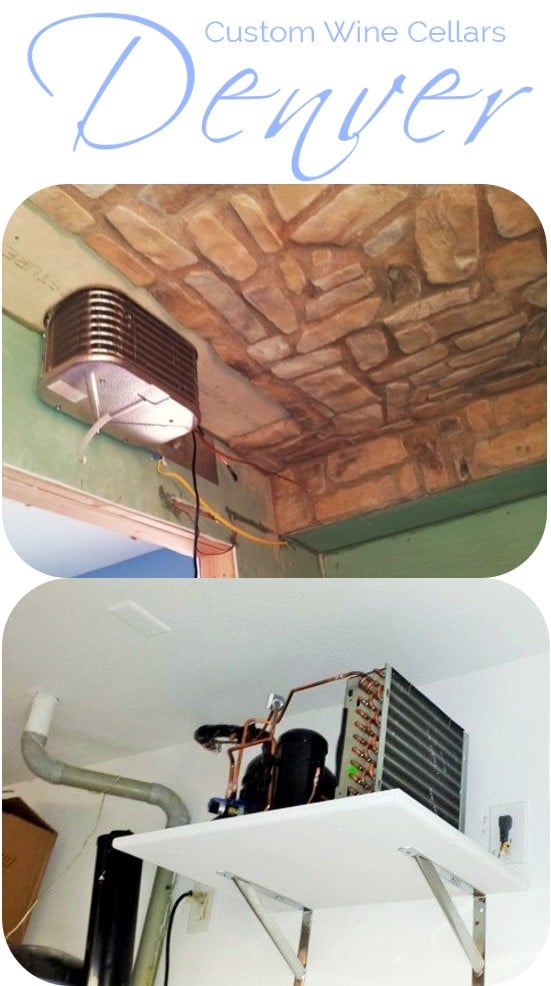 Whether you are a private wine collector or an owner of a business that sells wine, it is crucial to protect your wines in a safe environment. The key to achieving this is to install a reliable wine cooling system. At Custom Wine Cellars Denver, we offer different types of wine cellar refrigeration systems from top-notch manufacturers. Learn how we create climate-controlled wine rooms and the innovative cooling solutions available.  
Crucial Role, Types, and Brands of Wine Cellar Refrigeration Systems  
Knowledgeable wine collectors know and understand the crucial role of proper wine storage conditions. Our team has extensive knowledge in creating the perfect environment for wines. For many years, we have been working with premier suppliers of wine cellar refrigeration systems.  
This article will provide information on the role of cooling systems in wine storage and the different types and brands we offer.  
What are the Benefits of Choosing a reliable Wine Refrigeration System for Your Wine Cellar? 
Wine is a delicate beverage. It requires a cool and humid environment to age properly. Its desirable characteristics must be preserved before it is ready for consumption. Failure to provide the ideal wine storage conditions will damage your wine's quality.  
Wine will deteriorate quickly when stored in an unstable environment. Therefore, it is a smart move to consult a specialist like Custom Wine Cellars Denver. Our team is composed of wine cooling experts who understand the vital role of climate control systems in long-term storage.  
Before installing the wine cellar refrigeration system, we have to undergo the planning process and assess your needs.  
We have to schedule an on-site visit so we can do the following accurately:  
Determine 

your needs,

 requirements

, and

 the required BTUs, considering the location and size of 

the room

 and the amount of glass to be used in the wine cellar

 

Consider the infrastructure 

 

Know the type, size, and brand of wine cooling system

 (will depend on 

several

 factors such as availability of an exhaust room and the location of the room)

 

Determine the required maintenance for the unit

 
Calculating the heat load is an essential step in identifying the correct size of the wine cellar refrigeration system for your project. It will help us determine the exact amount of BTU required in your wine cellar for sufficient cooling and heating.  
Moreover, we will install the correct insulating value and vapor barrier to prevent condensation build-up and mold growth inside your wine cellar.  
Stable Temperature: Why it is Important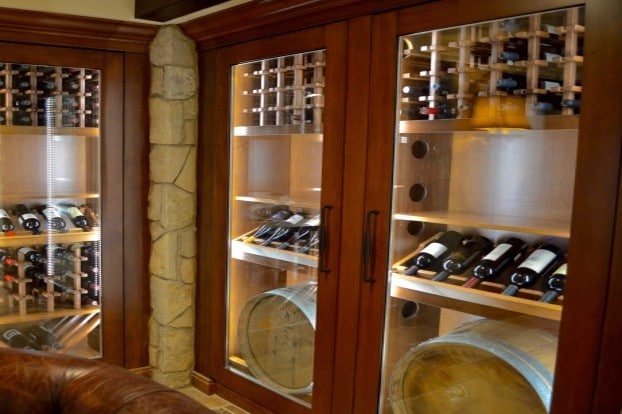 Heat is the number one enemy of wine. Too much heat will accelerate the aging process of the wine, resulting in off-flavors and aromas. To prevent heat damage, the room must have an efficient wine cooling unit, as well as correct insulation and vapor barrier to achieve the ideal wine storage temperature, which is between 55 to 65 degrees Fahrenheit.   
Too much heat will also affect the sealing ability of the cork. Wine will expand and put pressure on the cork. When this happens, the cork will be pushed out of the bottle, allowing an unwanted amount of oxygen to enter the bottle and mix with the wine.
Oxidation will occur, which will have an adverse effect on the wine's properties. Wine will taste like burnt fruit or wet cardboard.  
Constant Humidity Level: How it Affects the Quality of Your Wines
Varying humidity levels can be detrimental to your wine's quality. Installing an efficient wine cooling system will help keep the humidity in your wine room between 60 to 70 percent. Excessive humidity will cause condensation to form in the walls, ceiling, and even wine racks and corks. Mold growth can damage the structural integrity of your wine cellar and the quality of your wines. 
Different Types of Wine Cellar Refrigeration Systems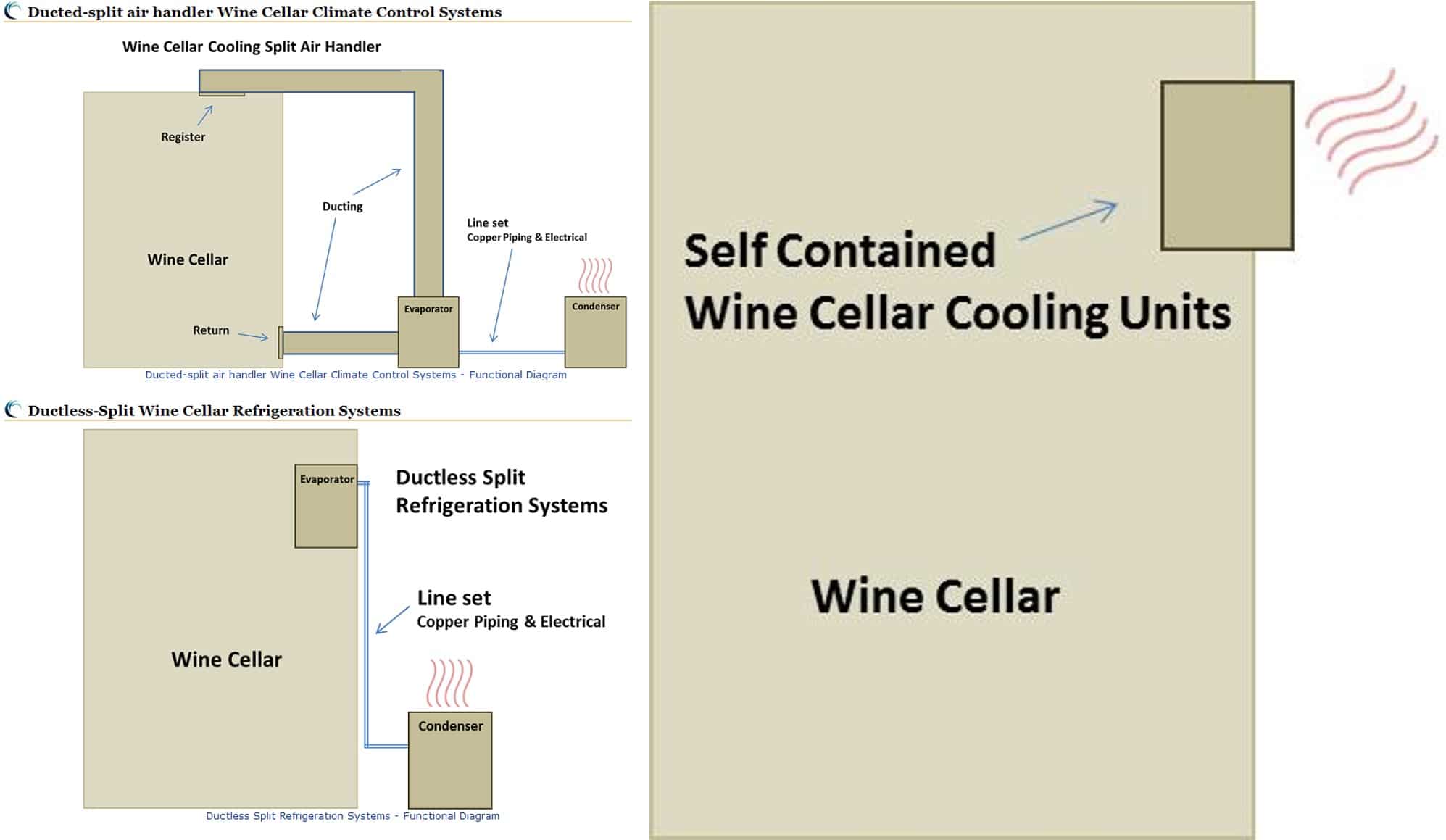 Custom Wine Cellars Denver offers different types of wine refrigeration systems. Here are the three basic types:  
Self-Contained Wine Cooling Systems
A self-contained wine cellar refrigeration system is also called a through-the-wall system. The evaporator and condenser are housed in one unit. It is the simplest type of refrigeration system, easier to install, and less expensive than other types of refrigeration systems. You will not need to hire an HVAC technician to have it installed in your wine cellar, saving you from spending for the labor fee. The unit is typically placed in between the wall studs. You will need an adjacent room for proper heat dissipation.   
Ductless Split Type Wine Cellar Refrigeration Systems 
With ductless split wine cooling systems, the evaporator and condenser are installed in a different location. A line set composed of small copper tubing and electrical wiring connects these components together.  
One advantage of this type of cooling unit that you do not need an exhaust room, and on-site maintenance service is available. However, you have to remember that the evaporator must be installed inside the wine cellar, taking up space within your racking or on your wall.     
Although more expensive than other types of refrigeration systems, ductless wine cooling systems are known for their quiet operation.   
Ducted Split Wine Cooling Units 
One benefit of using a ducted split wine cooling unit in your home wine cellar project is the absence of equipment in your wine room. The evaporator and condenser are placed outdoors separately. The cold air coming from the unit is ducted to and from your cellar. The warm air is vented into another room, which can be a garage or a mechanical room. Since ducting is needed, you will need the help of an HVAC technician for the installation.    
T
rusted Br
a
nds of Wine cellar Refrigeration Systems We Offer
Our team will choose the best brand of cooling system for your needs. We have been using refrigeration units from premier manufacturers, namely WhisperKOOL, Wine Guardian, CellarPro, US Cellar Systems, and arctic MetalWorks.  
All of these suppliers offer wine cellar refrigeration systems with high-grade components. We will help choose the most suitable equipment for your wine storage facility.  
Let Our Experts Choose and Install the Perfect 
Wine Refrigeration System for Your Wine Cellar 
Our team is composed of wine cellar refrigeration experts who have extensive knowledge in building climate-controlled wine rooms. We offer high-grade wine cooling units from top-notch manufacturers.    
If you have any questions or need help with your wine cellar construction project, please call us at (303) 872-7858.