An Expert Builder Created a Custom Home Wine Cellar Under the Stairs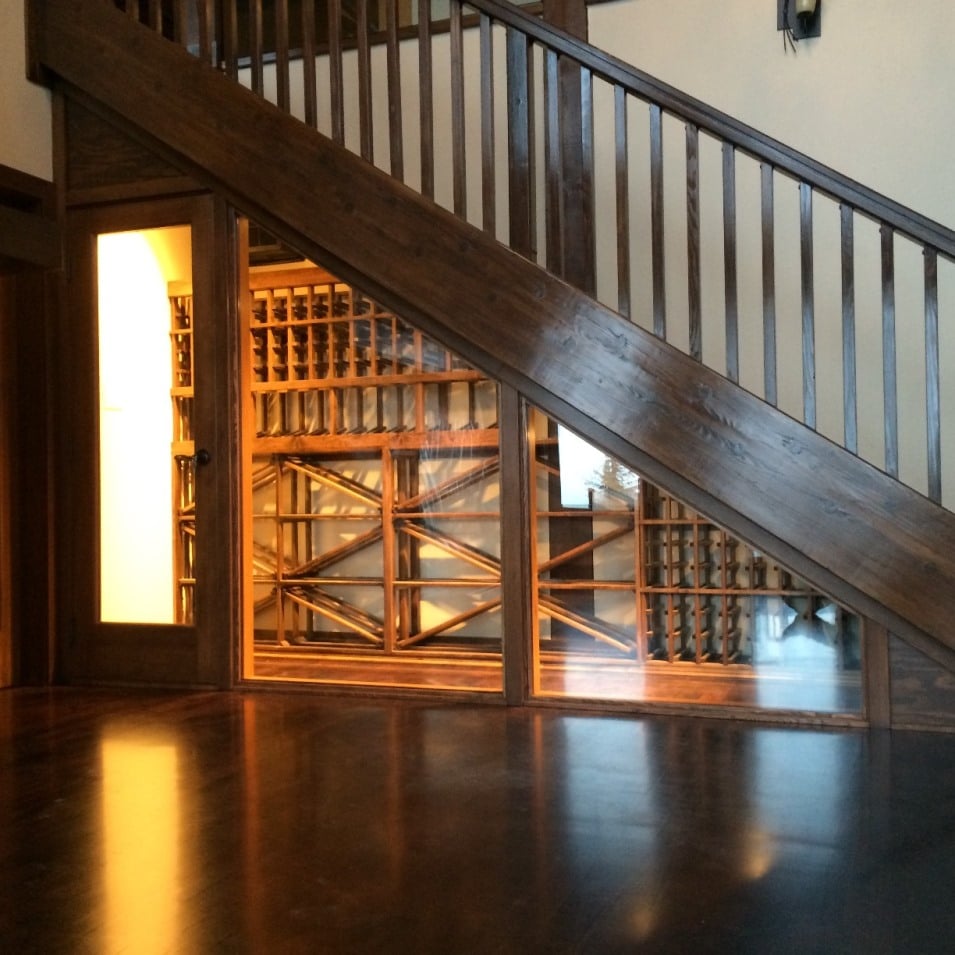 Challenges in wine cellar construction are unavoidable, but when you work with a master wine cellar builder, you will be worry-free! Like Custom Wine Cellars Denver, Blue Grouse Wine Cellars is dedicated and passionate about creating exceptional home wine cellar designs. In one of their projects, they had to build a wine storage room under the stairs. Despite the limited and irregular-shaped space, the result was impressive! 
How an Expert Builder 
Transformed a Space 
Under
 the Stairs Into a Beautiful
 Custom
 Home Wine Cellar
Investing in a refrigerated wine cellar will benefit you and your prized collection. A well-designed wine room will protect your wines from damaging external factors and can be a conversation piece in your home.    
If you do not have a large room for a full build-out home wine cellar, you can utilize any extra space in your living area, dining room, kitchen, garage, or under the stairwell. It is best to work with a trusted custom wine cellar builder.  
In one of their projects, Blue Grouse Wine Cellars helped the homeowners of a lovely home build a wine room under the stairs. The limited space did not stop the team from creating an elegant wine cellar.  
Innovative
 Wine Rack Design
 Created by a Custom Wine Cellar Builder for a Small Space  
Blue Grouse Wine Cellars created 3-dimensional drawings so the owners could visualize the completed  custom home wine cellar. The CAD images were create based on the aesthetic, technical, and functional requirements of the client. When creating a wine rack design, it is crucial to assess the owner's needs to create the perfect layout plan.  
The Blue Grouse team had to remove the existing walls at the back and side of the room to prepare it for the installation of the insulation and vapor barrier. For this particular project, the client wanted a traditional wine room. Careful planning was done by the custom wine cellar builder to exceed the client's expectations.  
Wine Rack Material: The Perfect Choice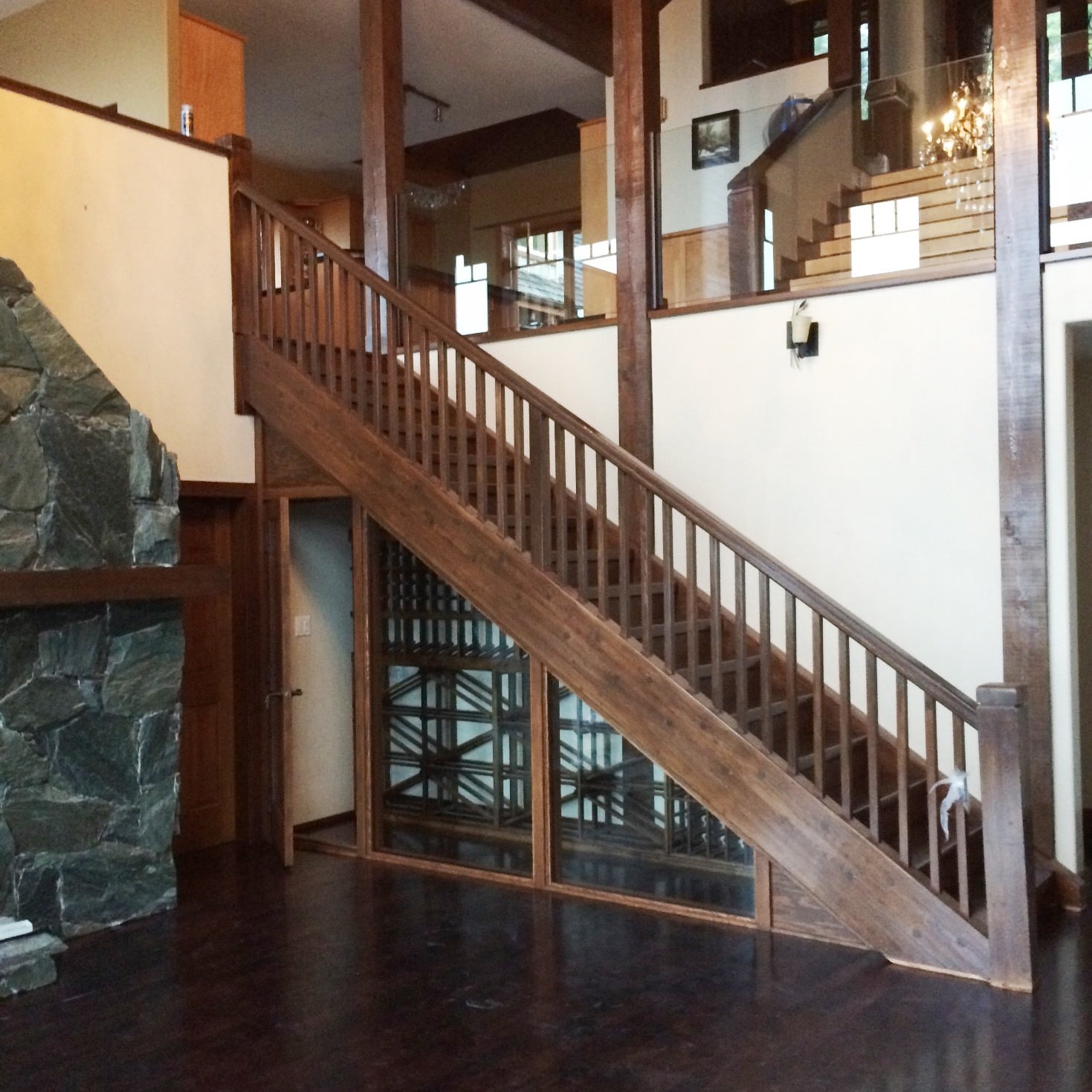 It is a smart idea to consult a professional when choosing the most suitable material for your wine cellar racks. You do not want to choose a material, which you will regret later on. Wood and metal are two popular materials used for manufacturing wine racks. If you want to achieve a relaxing and warm ambiance in your home wine cellar, wood is the ideal option. Moreover, wood also blends well with any existing décor.  
In this project, Blue Grouse Wine Cellars chose Knotty Alder, a type of wood that exhibits attractive knots, burls, and swirls. To emphasize the natural grain patterns of the wood, the team applied an Early American stain and finished it with lacquer for a lustrous finish. Knotty Alder is also one of the durable wood species used for making wine racks.  
Wine Rack Styles 
As a master custom wine cellar builder, Blue Grouse Wine Cellars designs every racking system with form and function in mind. In this project, they installed beautiful wine racks on the back wall. With a descending ceiling, the team created a racking design that would maximize the storage capacity of the wine room. They customized the wine racks that would fit the size and shape of the wine cellar. The total height of the racking is 6 feet.  
They incorporated different bottle configurations to achieve a stylish wine rack display for the client's collection. At the top section, you will find individual wine racks for standard bottles and a few slots for the owner's magnum bottles in the rightmost of the top section.  
Below these wine racks is a high-reveal display row that stores the bottles at a 15-degree angle. This bottle orientation helps keep the cork moist to prevent it from drying out and getting brittle. The sealing ability of the cork will be affected, which will allow an unwanted amount of air to enter the bottle and mix with the wine. When this happens, the wine will be oxidized and have an unpleasant taste and aroma.  
At the bottom section of the racking, Blue Grouse Wine Cellars included lattice-style diamond bins, which we recommend for bulk storage and proper wine management. The owner can place the same variety of wine in each section of the diamond bins for ease of access and monitoring. The lattice wood, which acts as the divider, can be removed to provide storage for wooden cases. The Blue Grouse team included additional individual wine racks at the right end of the diamond bins.  
Wine Cellar Lighting
 Installed by a Custom Wine Cellar Builder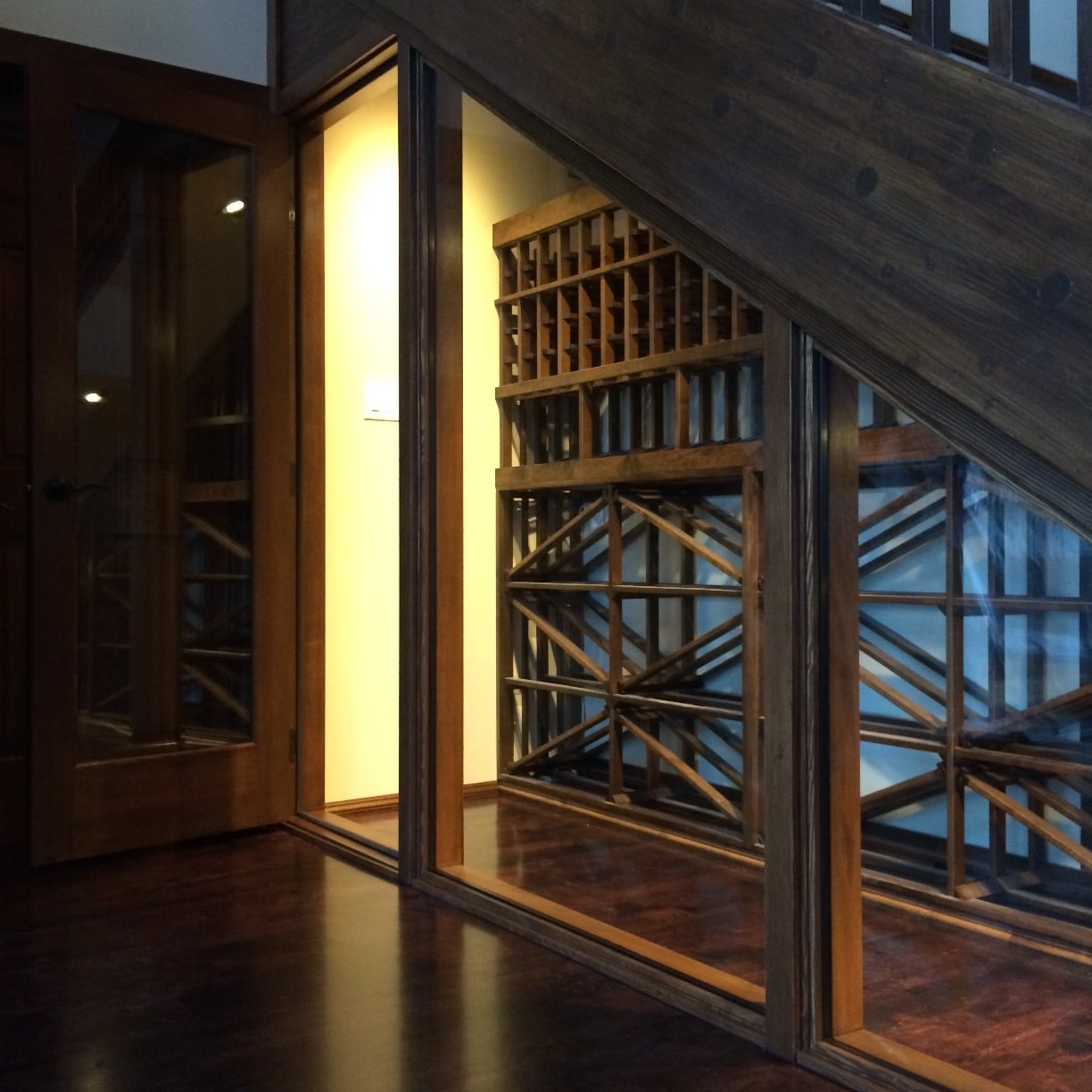 Installing the proper type of lighting is crucial to achieving the mood and appeal that clients want in their wine cellars. We do not recommend using regular bulbs in wine cellars because they can harm your wines.  
Custom Wine Cellars Denver always recommends LED lights to wine collectors who want to protect their collection from damages. In this particular project, Blue Grouse Wine Cellars used LED (Light Emitting Diodes) lights to create a dramatic lighting system while keeping the wines safe from UV light and heat damage. 
LED lighting systems do not emit UV rays and are known for their low heat emission. When exposed to these factors, your wines will deteriorate and will be undrinkable. You do not want this to happen.  
Using LED lights will also save you money in the long run. Compared to incandescent bulbs, these lights consume less energy and have a longer lifespan. The Blue Grouse team installed LED strip lighting behind the valance above the display row to highlight some of the client's favorite wines.  
To illuminate the entire custom wine cellar and provide an ample amount of light for reading the wine labels, Blue Grouse Wine Cellars installed pot lights in the ceiling.  
Wine Cellar Cooling Unit 
A reliable wine cellar cooling system will create the ideal wine storage conditions necessary for preserving the wine's quality. In this custom home wine cellar project, a KOOLR Magnum cooling system was installed through the back wall of the wine room. It was placed above the racking on the left side so it could blow down the cold air.  
The compact size of the wine refrigeration unit allows it to be hidden from view and create a seamless look. It consists of a digital control panel for easy monitoring of the temperature inside the wine cellar.  
Build Your Dream 
Custom 
Home Wine Cellar 
with a Professional Builder 
This custom home wine cellar project shows the creativity and expertise of Blue Grouse Wine Cellars in designing and installing custom wine rooms. Like them, Custom Wine Cellars Denver is a professional builder who creates innovative wine cellar designs for wine collectors who want to display and store their wines attractively and safely.   
Do you need help with your project? You may talk to one of our specialists at (303) 872-7858.