Hire a Reliable Wine Cellar Designer and Refrigeration Expert: 5 Important Questions to Ask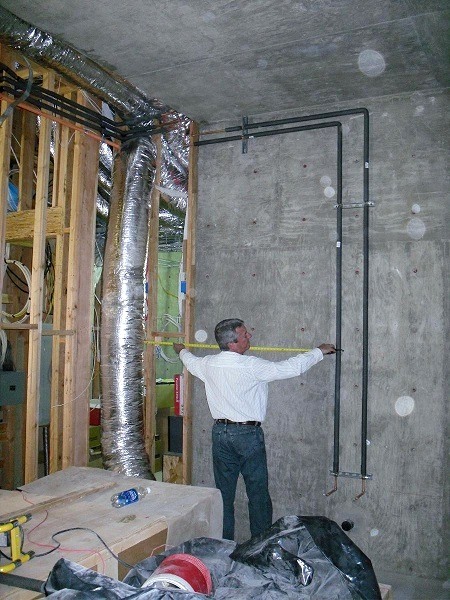 Investing in a wine cellar is a large commitment. Some wine collectors and wine store owners might decide to work with someone who offers their products and services at a highly reduced rate. They are not aware of the danger it may cause them.  
Remember, never work with a builder who does not have the right knowledge and expertise in wine cellar construction. Do not compromise quality over price. At Custom Wine Cellars Denver, we are an experienced team who has been building residential and commercial wine rooms for many years. We will provide you with tips that will help you choose a top-notch designer and refrigeration expert.   
Hiring an Expert in Wine Cellar Design and 
Refrigeration: 
5
Questions to Ask 
Building refrigerated residential and commercial wine cellars correctly requires extensive knowledge and technical skills. Working with a non-expert will result in regrets and a waste of investment. At Custom Wine Cellars Denver, we construct wine rooms following the standard guidelines required for creating safe and effective wine storage facilities. Do not fall into the trap of choosing a company that offers products and services at a low cost. You have to make sure that they are reliable.  
In this article, you will learn five critical questions to ask the builders before hiring them. This will help you determine if a company is a reputable wine cellar designer and refrigeration expert. We will provide answers to these questions.  
1. 
W
hy Should We Work With You? 
It is crucial to know what makes a company different from its competitors. At Custom Wine Cellars Denver, our wine cellar designers and refrigeration experts follow the standard procedures in wine cellar construction to ensure that everything is in place and prevent costly mistakes. We always want to exceed our client's expectations.  
We offer high-quality products and services at a competitive price. We can even design a wine storage solution that will suit your requirements, including your budget.  
We have helped homeowners create a stunning wine display of their collection. We have also created commercial wine cellars designed to boost wine sales.  There is no project that is too small or too for us. No challenges will hinder us from building functional wine rooms.    
2. 
How Do You Design Wine Cellars?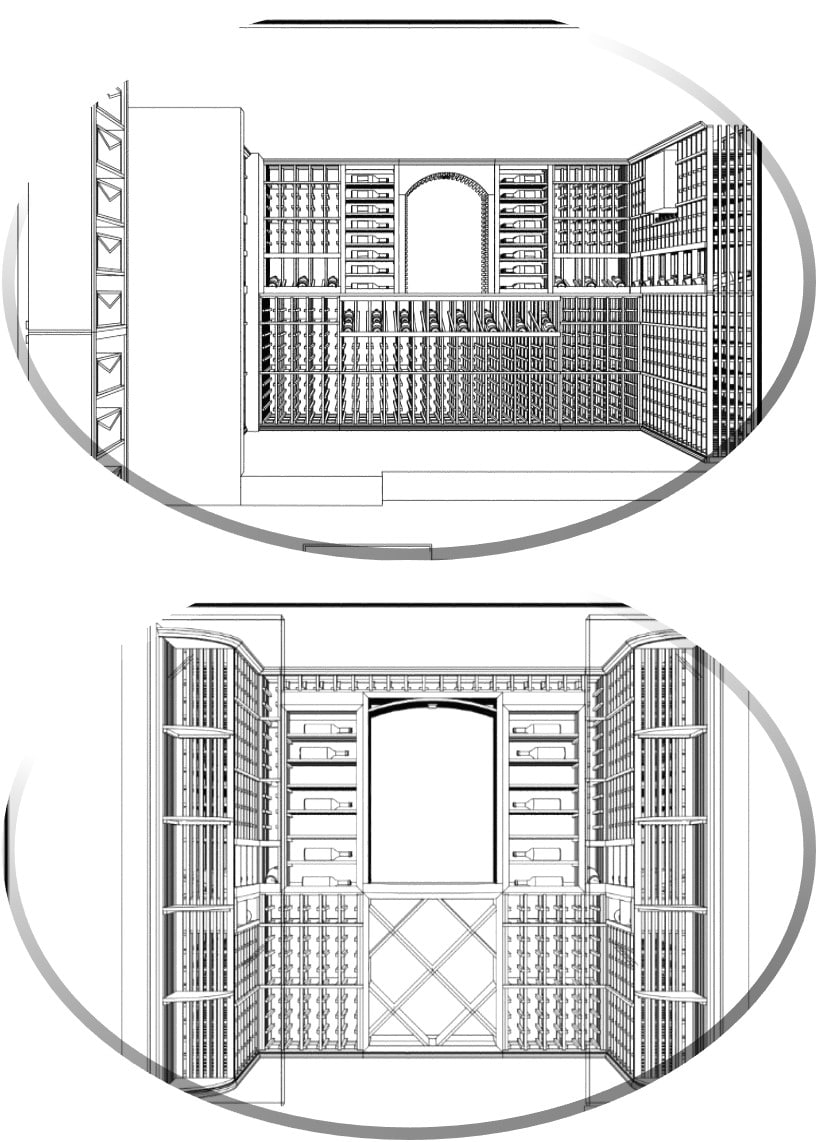 Designing wine rooms is not an easy or simple task. However, our wine cellar designers are creative enough to bring our client's visualization to reality. We will schedule an on-site visit to help us assess the location and check the room's measurement. We also want to know the availability of an exhaust room to help us choose the best type of wine cellar cooling system for the project.  
After doing a thorough assessment of your needs, we will create 3-dimensional drawings that include the different room elevations, racking styles, capacities, and dimensions. We will submit them to you and wait for your approval. We can modify the design if you want to make changes. After your approval, we will begin the installation process.  
3.
 How Do You Prepare the Wine Rooms 
Before
 the Installation of the Refrigeration System?
Your chosen wine cellar designer should be HVAC experts too. Work with someone who has an in-depth understanding of the requirements in creating wine storage rooms.  
At Custom Wine Cellars Denver, we prepare the wine room for refrigeration by insulating the walls and ceiling, as well as installing a vapor barrier. This process will help us determine the insulation value (R-value) needed based on the size of the room, the amount of glass to be installed, and heat sources near the wine cellar.  
Wine Room Insulation
Insulating the walls and ceiling is a crucial step in wine cellar construction to prevent air leakage to and from the wine room. Correct insulation will prevent the cold air from leaking out and the warm air from entering. Without it or doing it incorrectly will cause fluctuations in temperature and humidity levels, causing mold growth, wine spoilage, and damage to the structural integrity of your wine cellar.    
The vapor barrier is also an essential component of a wine cellar because it separates the cool and warm environment. It helps regulate the conditions inside the wine room and prevents the cooling unit from working too hard.  
Custom Wine Cellars Denver and most wine cellar designers and builders use closed-cell spray foam polyurethane insulation. It is a reliable and effective type of insulation because it can fill in the tiniest cavities and cracks in the walls. Since it can act as both an insulator and a vapor barrier, there is no need to spend on the vapor barrier. 
4. 
How Do You Do the Sizing
 of
 Wine Cellar Refrigeration
 Systems?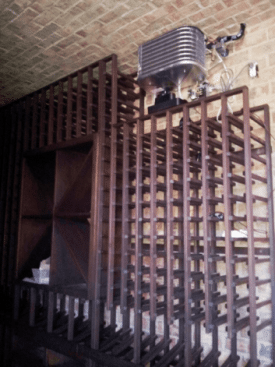 You cannot create the ideal storage environment if your cooling unit is either too big or too small for your wine room. Our team of wine cellar refrigeration experts will do a heat load calculation to determine the right size of equipment suitable to your needs.      
It will also help us choose the best type of cooling unit, considering the availability of an exhaust room, which can be a mechanical room, an attic, or a garage. We utilize high-grade wine cooling units from these top-notch manufacturers: 
WhisperKOOL 

 

US Cellar Systems 

 

Wine Guardian 

 

CellarPro   

 

 
5. 
Why Should We Choose Your
 Wine Cellar Racks and Doors
?
Wine racks play a significant role in achieving the look that you desire for your wine room. Our wine cellar designers always make sure that your wine racks are functional and durable. 
Our wood wine racks are made from sturdy types of wood that can withstand the high humidity inside refrigerated wine cellars and resist mold, mildew, and warping. Our metal wine racks are also durable and low-maintenance.  
We offer a wide array of racking styles of wood and metal racking. You may incorporate your own design and unique features to enhance the aesthetic appeal and functionality of your wine display and storage area.  
Our wine cellar doors are made from exterior grade materials, and we equip them with sealing components to help create a stable environment for our client's wine collection. We have stylish pre-hung doors available, but you may customize your door to add a personal touch to your entryway.  
Let Our Wine Cellar Designers Create Your Dream Wine 
Room
Work with a professional designer and refrigeration expert on your next project. Our team is passionate, knowledgeable, and experienced in building refrigerated wine cellars. If you need help or have any questions about wine room construction, please call us at (303) 872-7858!    Whether you want a glass wine cellar, traditional, or stone-designed, we got your back!