A Small Closet was Transformed Into an Elegant Home Wine Cellar by a Master Builder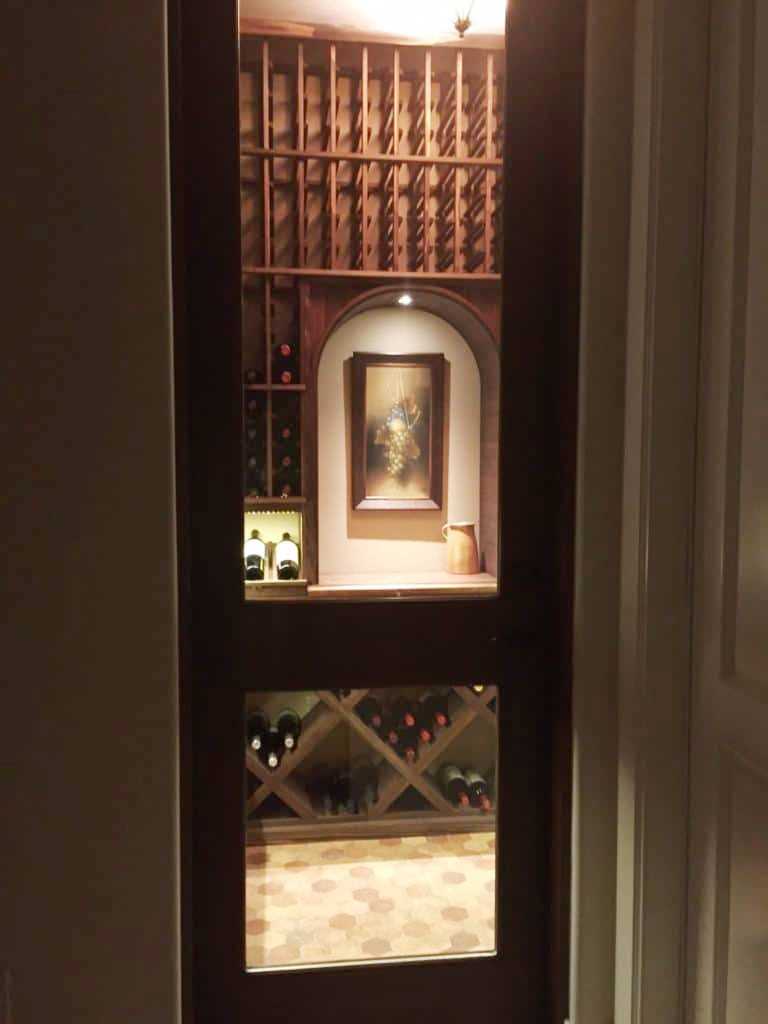 Space constraints will not stop a master builder from creating a beautiful and functional wine storage facility. Vintage Cellars, a professional designer and installer of residential wine rooms, has built an elegant home wine cellar out of a small space. Like Custom Wine Cellars Denver, they have extensive experience and knowledge in proper wine storage, and they can transform any room into a gorgeous wine display and storage area.  Learn more about their recent project packed with elegant features. 
Custom Home C
ellar Designed with Elegant Features
Working with a reliable designer and builder offers many advantages. You can be sure that everything is in place and the components are made of high-grade materials.    
In this installation project, the size of the room is 7-ft. wide, 5-ft. deep, and 9-ft. high. It was an unused closet. The limited space was a challenge, but it did not hinder Vintage Cellars from creating an impressive home wine cellar design. They did an excellent job! The choice of wine racks, flooring, door, and cooling unit perfectly fit the requirements of the client.  
The Ideal Wine Racks for a Small Home Wine Cellar 
After assessing of the client's needs, Vintage Cellars started creating the design, considering all of the factors and requirements that would impact the overall design and functionality of the home wine cellar.  
When you work with Vintage Cellars, they will provide you with a free 3D design package to help the builder and client visualize the completed wine room. The 3D drawings consisted of the elevation views of the complete wine room, racking styles, bottle capacities, and dimensions.  
Wine Cellar Racks on the Right and Left Walls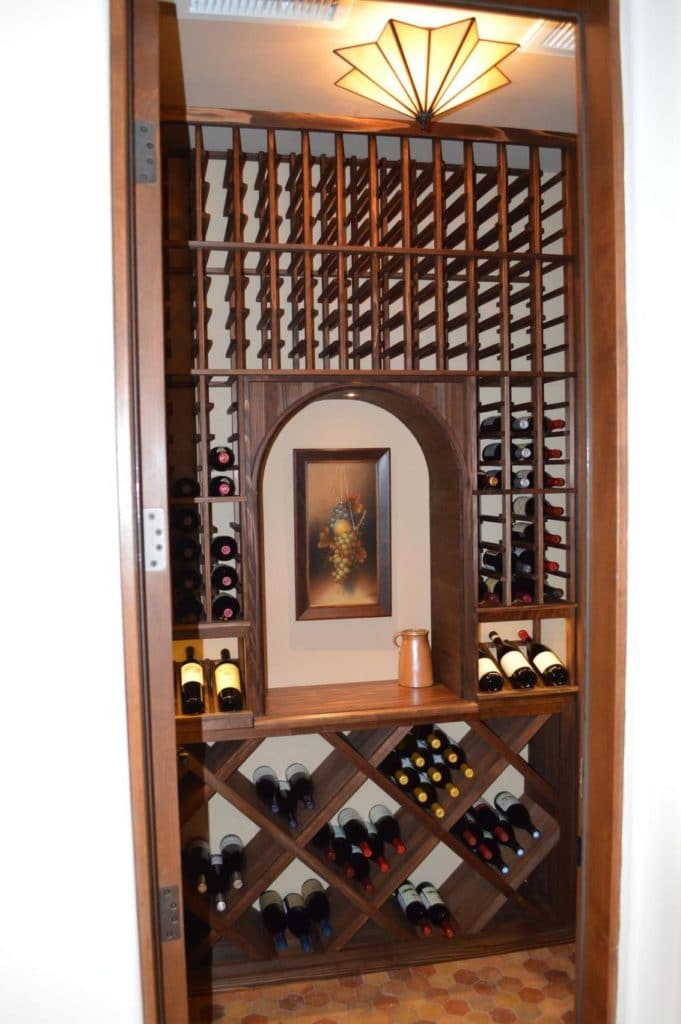 Elevation 1 (left wall) and Elevation 2 (right wall) have the same racking style. Vintage Cellars incorporated four levels of racking at the center of the top section. It stores the bottles horizontally. Around it are individual wine cellar racks for standard bottles.  
The bottom section of the left and right walls consists of rectangular bins intended for bulk storage and better wine organization. This type of racking helps maximize the storage capacity of a small home wine cellar like this and allow for easier wine inventory. The bottles can be stored in each bin according to type or varietal. 
Wine Racks on the Back Wall 
Elevation 3 (back wall) is the focal point of this home wine cellar. Vintage Cellars added a solid arch featuring a lovely artwork in a rectangular frame. It comes with a tabletop to provide a space for decanting, serving, and drinking wines. 
There is a display row on both sides of the arch, which stores the bottles at a 15-degree angle. Pitching the bottles at an angle will keep the cork moist and prevent the cork from shrinking and becoming brittle.  
You will find more individual wine racks around the arch. The diamond bins below the tabletop added character to the racking.    
Premium Redwood: The Ideal Material for the Wine Cellar Racks 
Choosing the material for your racking is a crucial task, which needs the help of a professional. With many materials available in the market, it is easy to make mistakes, especially when you fall into the trap of choosing a cheaper material.  
Remember that the racking material has a significant impact in achieving the client's desired ambiance inside the home wine cellar. Wood and metal are the popular materials used for manufacturing wine racks. Depending on your needs and preferences, we will recommend the best material for your wine room. 
In this project, Vintage Cellars used Premium Redwood because the owners wanted to create a warm and relaxing ambiance inside their wine cellar and store their bottles in an attractive racking. This type of wood is well known for its aesthetic and functional properties.   
It is durable and sturdy, capable of bearing the weight of the bottles. It is also highly resistant to mold and milder, making Premium Redwood ideal for a high-humid environment like in refrigerated wine cellars. The ability to withstand humid conditions is an essential property that one should look for in a racking material.  
Wine racks made from Premium Redwood exhibit reddish tones that become deeper over time. You can apply a stain of your choice to enhance the color of your wood wine racks. In this home wine cellar we installed in a small closet, we applied the Dark Walnut stain on the wood to match the flooring.  
Efficient 
Wine Cellar Cooling System 
from Wine Guardian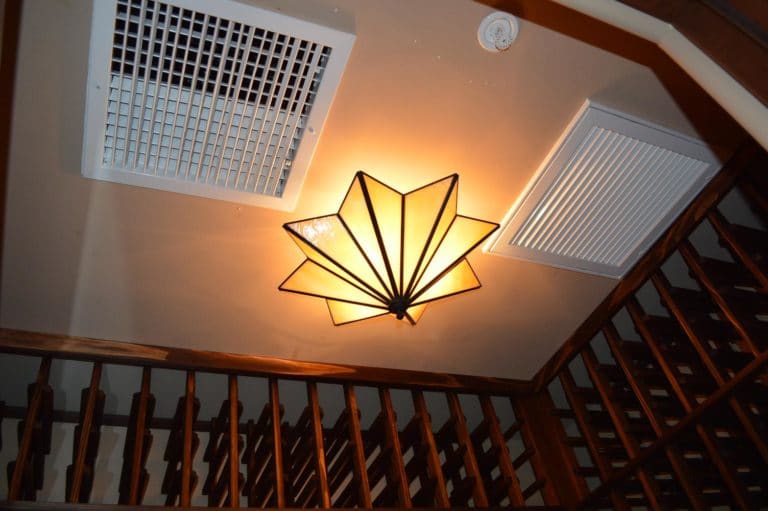 Another vital component that has to be chosen very carefully is the wine refrigeration unit. Identifying the type of equipment and installing it requires technical skills and expertise. You will need the help of an HVAC specialist. Like Custom Wine Cellars Denver, Vintage Cellars is also composed of licensed HVAC technicians who will ensure that a suitable climate control unit is installed in your wine room the right way.  
Vintage Cellars utilized a ducted self-contained wine cellar cooling unit from Wine Guardian. They placed it above the attic ceiling, sitting on a platform with a drain pan underneath to prevent water leakage.   
Wine Cellar Door
The door that leads to your wine display should not be neglected. It is the first thing that greets you and your guests before you step into our home wine cellar. Vintage Cellars installed a Barolo style wine cellar door consisting of a glass panel and wooden frame. They used a thermally insulated glass panel to prevent condensation build-up and mold growth.    
The team equipped all the sides of the door with weather stripping to prevent the cold and warm air from leaking to and from the wine room.  
Let Us Find an Expert for Your Home Wine Cellar Project  
If you plan to transform a room into a home wine cellar where you can store and display your wine collection safely and attractively, we will find an expert builder for you.  
Do you want a traditional style wine room like this? You can reach us at (303) 872-7858!