Stylish Wooden Wine Racks for Modern Wine Cellars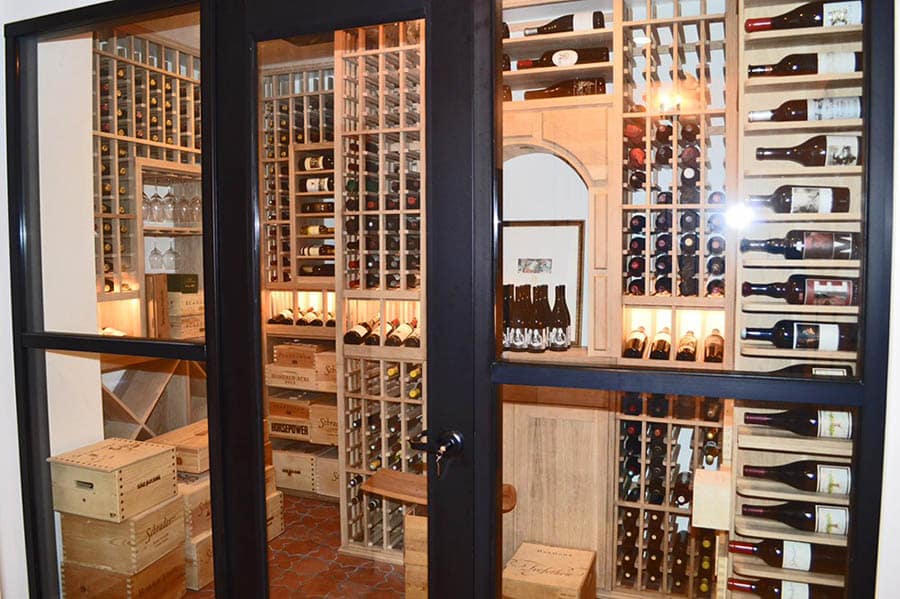 Choosing a theme and getting ideas from there are the first things you must do when designing a house wine cellar. Themes vary depending on the customer's preference and the house's existing structure. Many clients would prefer their wine cellars to blend in with the design of their homes. 
Custom Wine Cellars Denver's most recent customer just bought a new house and requested assistance with wine cellar ideas that would fit her new home. The team collaborated on design concepts for her new home wine cellar and custom wooden wine racks that would complement the storage space.
After considering her desire for a contemporary wine cellar in her new home, the team worked together to design custom wine racks that would complement the entire wine area. Find out more about how one of the best wine cellars in Denver was created.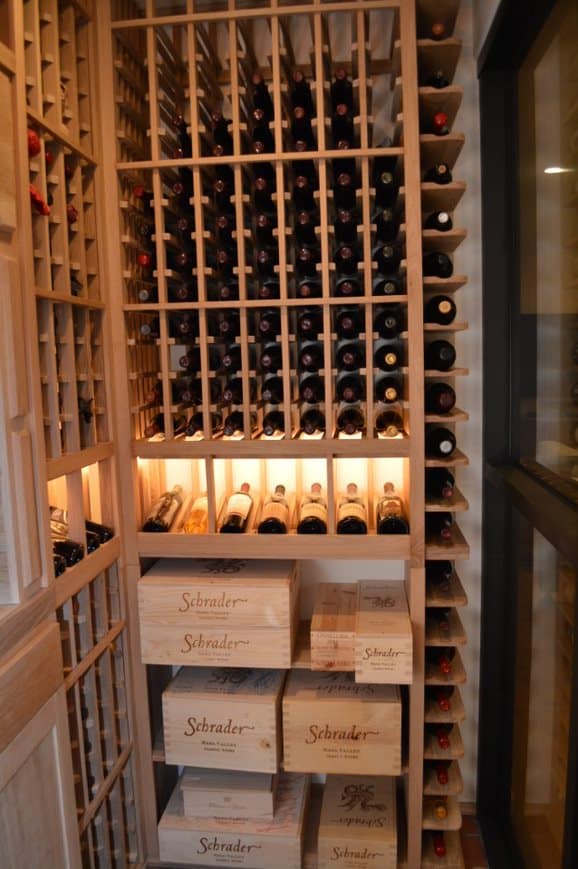 Mixing Different
Wooden Wine Racks
Design and an Efficient Cooling System
It's simple to include a contemporary touch to any room using art, landscapes, rooms, empty spaces, or even a wine cellar. Creative ideas were devised to suit the client's demands for this space. To make the small wine cellar appear spacious, they installed a stainless-steel glass window and glass door that allowed people to see the wine cellar from a distance. They created a more modern atmosphere by adding a simple yet stylish touch to the wine cellar.  
As you enter the space, you'll see a display of wine crates made of wood in a brown color that's lighter than usual. This approach made the entire space appear more sophisticated. Some bottles are displayed horizontally to allow for a better view of the wine labels and details, as the others are placed inside the rack for more storage space. 
How the
Wooden Wine Racks
Maximize the Wine Cellar Space
With limited racking capacity, the team decided to maximize storage by setting up three kinds of wine displays in our home wine cellar. All the wooden wine racks were wall-mounted and made of lighter-colored wood. Most of the bottles are displayed in a regular racking position to show a wide range of wines.  
Secondly, wine bottles are set up horizontally on both sides of the rack to showcase the elegance of the wines. Lastly, they created a reveal rack just below the display rack to provide more storage space making it an excellent location to showcase larger wine bottles.  
LED lighting was positioned behind the wine racks to light up the bottles and generate a better ambiance in the home wine cellar. The lighting was carefully calibrated to provide a warm atmosphere to the space. The contemporary touch of the entire space was perfect and ideal, finished with a fresh and innovative design. 
For another quick note, wooden wine racks aren't only for traditional and simple wine cellars. They also look good in modern glass wine rooms like this project here!
A Space-Saving Wine Cooling System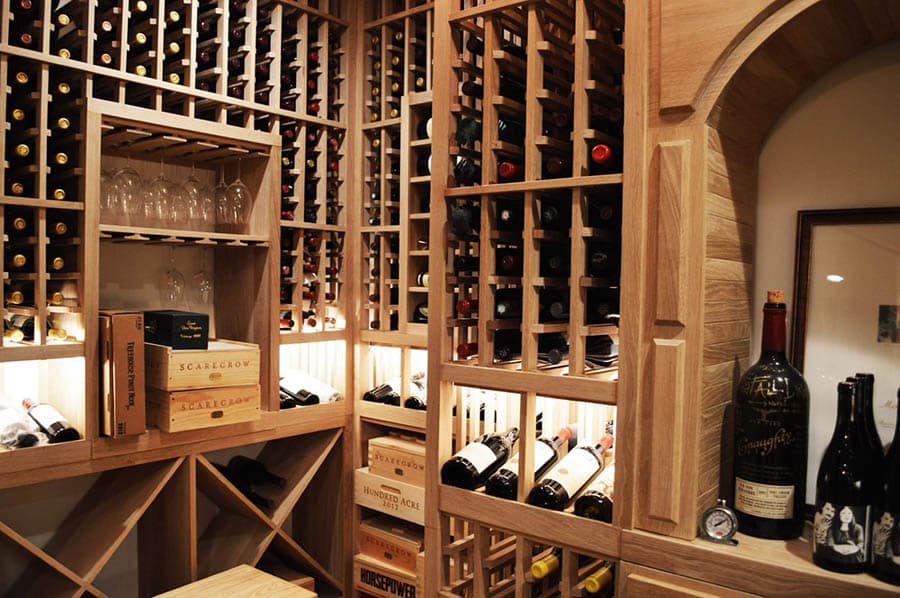 Since the team began designing house wine cellars, space has always been a challenge. They realized that so many ideas were out there to maximize storage space as time passed. They invented custom wine storage solutions, utilized glass windows to create the illusion of a bigger space, and advanced cooling systems that do not eat up any space, even in tiny wine cellars.  
Working in a team of experts with years of experience allows you to be more creative. With the current technology at hand, there are tons of innovations available in the market. The team used a ceiling-mounted cooling system in this contemporary wine cellar. Its clever placement makes it seem like the cooling system is not there, but it still does its job by maintaining the wine bottles at the proper temperature.
The cooling unit can be adjusted and monitored via a remote, and it comes with anti-noise technology that reduces the cooling sounds emitted by the unit. This cooling system option is perfect for anyone who desires to maximize their wine cellar space while maintaining an ambient wine cellar environment.
Get in Touch with Us to Discuss Your Unique Wine Storage and Display Needs!
The input of our clients is critical when designing new wine cellar installations. The team constantly endeavors to offer personalized customer service by listening to their suggestions. On-site inspections are performed to ensure that what is produced is only the most satisfactory outcome for your wine cellar.  
After hearing your opinions, we can develop the ideal concepts for creating a contemporary wine cellar that best fits your preferences and wooden wine racks that fit modern and traditional styles. Do not hesitate to contact us at (303) 872-7858 if you want to create a wine cellar in your dream home now.